This site is not tested with IE. The main browser for testing purposes is Firefox, form time to time I'm testing the useability with Opera and Lynx. I try to validate my pages at changes with the validate HTML and validate CSS links at the bottom of every site. They link to the validation service of the W3C.
Here is a link to the ➚ SOAP API-description of the HTML and CSS validation Service of the W3C ➚ W3C validator API
Here is a small snippet of XHTML and inline CSS with a screenshot made in Iceweasel (Firefox in Debian), but in all other Browsers even with Firefox at Mac and Windows it looks different. The position of the elements (all elements are positioned with 'em') is different in every Browser I tested (Linux: Opera, Iceweasel, Epiphany; Windows: IE, Firefox; Mac: Firefox, Safari).
Martin
Enders
The universe is made of stories, not of atoms.
-- Muriel Rukeyser
CSS Spielerei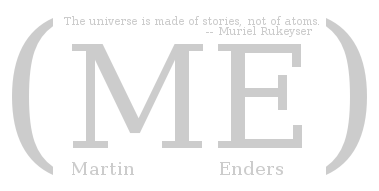 Screenshot obiger CSS Spielerei in Iceweasel (Firefox in Debian)